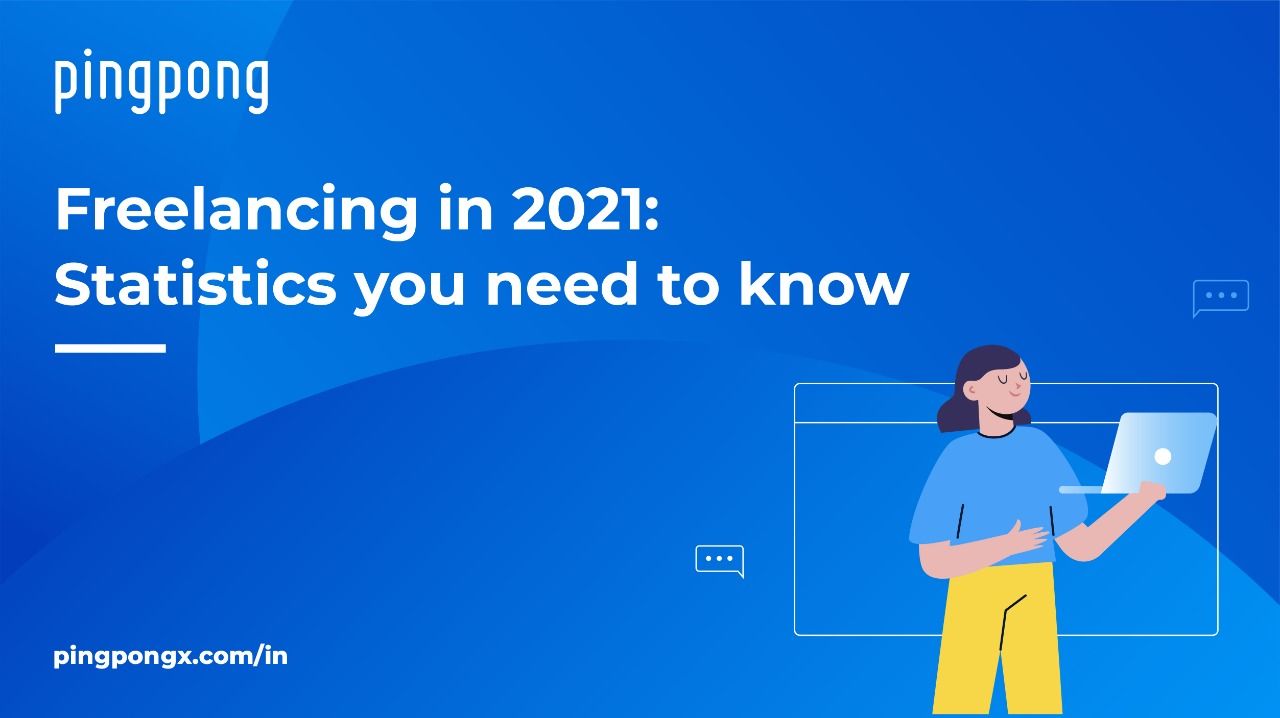 Introduction

While freelance is just a side dish or time pass for some, it's daily bread and butter for millions across the globe.
If we talk from the perspective of Generation X then, freelance for them was nothing less than an unstable and least paying work method.
But, as years went by, the gig economy witnessed a leap.  
Though the US leads in the freelance industry, India isn't far behind.
Facts!
To begin with, India witnessed an increase of 46 percent in new freelancers from Q1 to Q2, 2020. It makes India the second fastest growing ground for the gig economy.
82% of freelancers in Asia are under 35.
As per the reports, the Indian freelance economy aims to grow from $20 to $30 billion by 2025.
According to the reports by Indeed, January 2021 saw a 22% skip in hiring compared to January 2019.
Freelance Writer was the most in-demand job in this segment, followed by Freelance Designer, Recruiter, Developer, and Digital marketer. Business Development Executive and PHP developer also emerged in the top-10 freelance job titles in India.
Ladies, Special Facts!
One out of five freelancers consists of women.
Women earn more than men in marketing and web and graphic design.
Women freelancers are witnessing a rise, to know more, click - https://in.pingpongx.com/in/blog/the-women-freelancer-community-in-india-is-thriving-heres-why/
A dig into freelancing in 2021

Upwork
It is a US-based freelance platform whose core market lies in the US, India, and the Philippines. These freelancing-friendly nations account for more than 51.57% of Upwork's total freelancer revenue.
Upwork revenue trend for India
2016 - $20 million
2017 - $21.88 million
2018 - $25.48 million
2019 - $27.37 million
2020 - $33.1 million
You name it, and they have it. Upwork offers you a plethora of freelance options.
Apart from this, they offer you feasible payment options, and one of the benefitting cross-border payment solutions is - PingPong.
PingPong is a six-year-old cross-border payment solution that guarantees:
Fast
Secure
Compliant
Transparent
Low transaction fee
Direct payment to the Indian bank account
PingPong is one of the most preferred platforms by the Upwork freelancers across the globe because it allows the freelancer to:
Receive funds in - USD, GBP, EUR, CAD, AUD, and JPY at highly competitive rates.
Withdraw funds in - INR, USD, GBP, EUR, CAD, AUD, and JPY
Free digital Foreign Inward Remittance Certificate (FIRC) after every international transaction
If you are an Upwork freelancer who doesn't want to give away 4% - 5% of your fundings in the name of foreign exchange, bank charges, service charges, etc then join PingPong with these simple steps:
Create a free PingPong account
In the add payment section in Upwork, add your PingPong details.
Get, set, and go
Freelancer.com
This Sydney-based freelance platform is the messiah for millions across the globe.
With the growing demand for freelance as the booming latest work trend, Fiverr witnessed a spike of 17% (2.1 million freelancers) in 2020 compared to 2018 when it was a freelance haven for 1.8 million.
A few of the top skills demanded by the employers on freelancer.com are:
PHP
Graphic Design
Web Design
HTML
Data Entry
SQL
WordPress
Programming/coding
By mentioning these doesn't imply that others don't matter. Every skill is required, but these are a few skills that are reaping the best of the earnings in the latest freelance market.
Freelancer.com offers you various payment options such as:
Debit/Credit cards
Online payment gateways (PayPal, PingPong, Skrill, etc.)
Digital-Wallets
Wire transfer

99Designs
This Australia-based freelance platform is nothing less than a fruitful tool for graphic designers. Earlier, we used to create something on the paint software or doodled a bit and thought it was the ultimate Picasso in us.
Though MS Paint was a starter for the designers, the launch and progression of the Adobe Photoshop series etched a new definition of creativity for graphic designers.  
Graphic designers have found a new edge of creativity where experimental illustrations lead to million-dollar patents, and 99Designs is one such vast pool for graphic geeks.
99Designs also offers widely accepted payment methods such as card payments, American express cards, wire transfer, online payment processors, etc.
PingPong is also one of the efficient payment options offered by them.
Ever wondered about the right freelance platform?
Now, as the freelancing economy is gaining the demand, a lot of freelance sites are popping up on our social media handles, luring us to fall into the pit of "This housewife earns 1 lac in a month. Know how?"
The captivating number pushes you to take the fake road, blinding us from authentic and reliable options.
We all know there are multiple freelance sites available, but questions like:
What does this platform offer/What does it have for me?
Am I getting decent deals?
Do they offer various FEASIBLE payment methods?
Are they reliable/credible?
What's their status for the coming five years?
If you are pondering over these questions, then we have your back. Here is a list of the latest and reliable freelance solutions which would prove to be a haven:

Upwork
99Designs
Guru
PeoplePerHour
Chegg
Toptal
Truelancer
Fiverr
Freelancer.com
Fixnhour
If we talk about the best then, Upwork would be the right one. The reason for being the best is not only the unlimited options but:

Offer higher-paying projects than other sites.
The latest structure boosts the chance of hiring (its paid)
Hassle-free payment methods (both national and international payment).
Credible and widely recognized
Choosing the right payment Partner
Just like it's necessary to understand and invest your talent at the right junction, one also needs to opt for a reliable payment partner.
Joining hands with a bank is like giving the key to your savings.
Therefore, one must be aware of the likely implications when opting for a payment solution:
Are they offering me what I need?
Is it credible/reliable?
What is in it for me?
Is there anything exquisite?
What is their reputation in the market?
Do the testimonials offer a fruitful giveaway?
Are they future-ready?
How is their customer service?
EIGHT problems ONE solution

You might be having multiple queries being an Indian freelancer, but only one feasible and reliable option sustains - PingPong.
If thousands are unaware of this brand, millions of freelancers are getting immunized from this cross-border payment solution that is a haven for all the abovementioned seekers.
Offerings!
Free signup. Zero maintenance
Receive payments in USD, EUR, GBP, CAD, JPY, and AUD.
It's quick (1-3 days of transfer duration)
Highly competitive market transaction rate
Free FIRC
Upwork freelancers have a special bond with PingPong, but it doesn't draw biases to freelancers from other sites such as:
Freelancer.com
Upwork
Guru
PeoplePerHour
99Designs

The freelance industry is thriving and is soon to be a side or main dish for many, and PingPong shall never stop offering exclusive treats for its freelancers.