Brand Analytics, which Amazon first introduced in 2019. Brand Analytics reports available to brand registered sellers  to understand customer behavior when consumers interact with their products. Brand Analytics is a great tool accessible to Amazon merchants who participate in the Brand Registry program. At the point when brands are acknowledged into Amazon's Brand Registry program, they automatically get access to use this Brand Analytics Tool. It permits access to extraordinary power like A+ Content, Sponsored Brand Advertising, and tools to assist protect their property.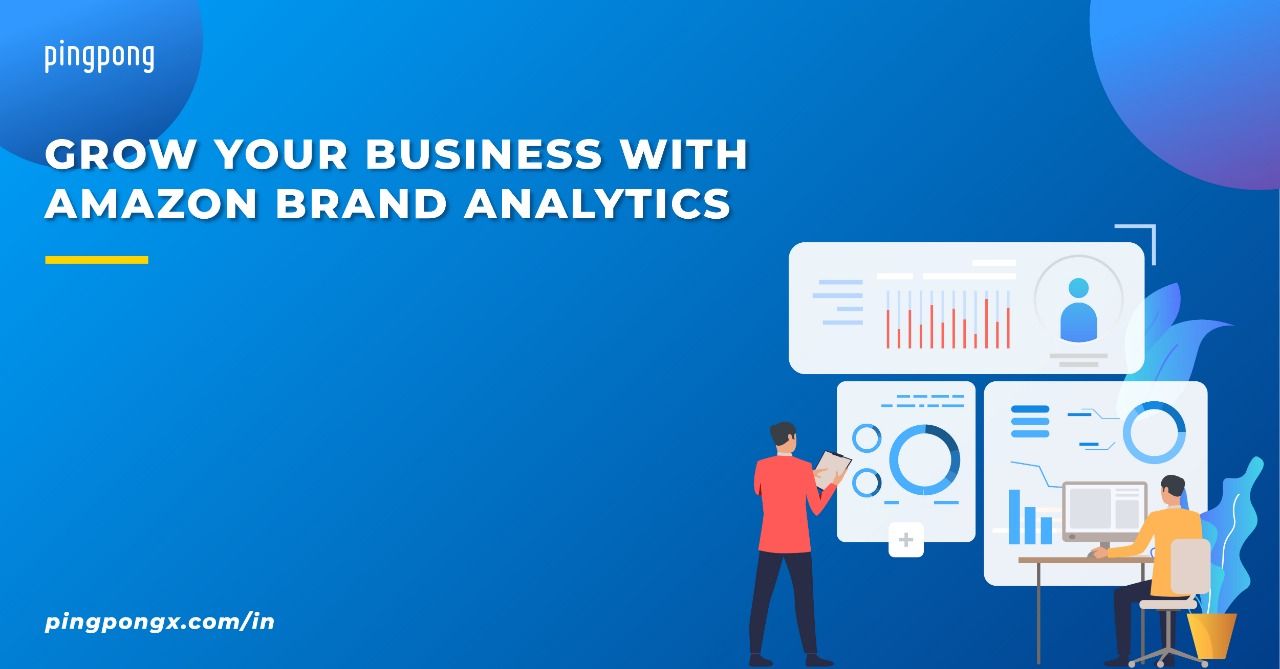 What is Amazon Brand Analytics?
According to Amazon, "Brand Analytics is a feature that contains valuable insights to empower Brand Owners to make informed, strategic decisions about their product portfolio and marketing/advertising activities."
How to access Amazon Brand Analytics?
Once you have registered with Brand Registry, it will automatically appear in your Amazon account. Only Brand Registered Sellers will be able to access the Brand Analytics Tools.
In order to access the Brand Analytics tools, Sign in to your Seller Central,
Click on the Reports Tab ->Brand Analytics.
What are the Benefits of the  Brand Analytics Report?
Brand Analytics gives you access to four essential sorts of reports:
Amazon Search Term Report:  Know your Top Search Terms
Market Basket Analysis: Know your Market
Item Comparison and Alternate Purchase Behaviour: Know your Top Competitors
Demographics: Know your Consumers

Amazon Search Term Report:
The Amazon Search Term report is a great tool to identify:
The most popular search term
Additional Keyword Phrases
The top three products customers click on for each search term
Keyword's Search Frequency rank
The top three product's click share and conversion share
This report can assist together with your keyword research, allow you to check which of your competitors are becoming the foremost clicks, and empower you to utilize this data to uncover new keywords to include in your product listing, advertising, and other initiatives that benefit through SEO.
Amazon Market Basket Report:
Amazon Market Basket report allows you to check specifically what other products your customers are buying once they purchase your products.
If you see customers are regularly buying a selected competitor's product along side your product, you would possibly discover that there's a chance to feature an identical product to your own line
This section is restricted to the ASINs in your brand account. it'll assist you to seek out out potential products which will be bundled or up-sold together with your product.
Most of the brands on Amazon attempt to combine their products with other products to make bundles. The Market Basket Analysis is often of great help during this regard.
Item Comparison and Alternate Purchase Behaviour:
This tool allows you to check which products are your direct competition. Once you pay close attention to your competitors and their product detail pages, it can assist you determine which improvements are often made to your product listings, advertising campaigns, and marketing initiatives.
Item Comparison shows you the highest five items customer's view after viewing your product. Alternative Purchase shows you the highest five items a customer purchases after viewing your item.
When customers are viewing your products, it's helpful to know what items they're comparing your products with or may find yourself purchasing rather than yours. These reports provide an excellent insight into your competition. you'll then take this data and review the opposite products to know why customers are comparing and buying alternate products Additionally, you get specific data as a percentage on how often your product is compared to the highest three compared products.
Amazon Demographics
Amazon's Demographics tool is beneficial for giving some valuable insights into key demographics of your audience.While tons of those demographics will fit into the Amazon customer, this will still provide you an honest insight into the sort of customer you're attracting on Amazon.
Using Brand Analytics, you'll get access to the demographics of consumers after they need purchased your product. It will assist you ensure your marketing strategy connects with the targeted customer.
The Demographics Report gives a breakdown age , household income, education, gender, and legal status of consumers purchasing your products. Getting to know your customers is important for marketing your brand and products. you'll use this insights to assist determine pricing, product expansion opportunities, and targeted keywords.
Conclusion:
Use Brand Analytics  tools to spot potential areas for improvement, modify the marketing strategy, and screen for potential client issues. With this data, you'll make more informed strategic decisions. Amazon Brand Analytics is a great tool that can give Brand Owners significant experiences that are important in settling on choices with respect to their product advertising and deals on Amazon. By building up the correct promoting marketing strategy  in the current competitive scene you are selling in, it will assist you with developing your business further on Amazon and in the past. By utilizing this tool, you will get positive outcomes.