Amid the COVID crises and unstable full-time employment security, the google search on Freelancing has increased by 300%. The search trend of keywords like freelance jobs, freelance work has seen an upward trend.
Being a freelancer has never been a cakewalk. Though you choose to freelance to work as per your terms and convenience, it needs tremendous dedication, patience, and perseverance to upskill and scout for work. In recent years, the freelancing segment has become a major contributor to India's economy. Indian Government also provides Income tax benefits to freelancers.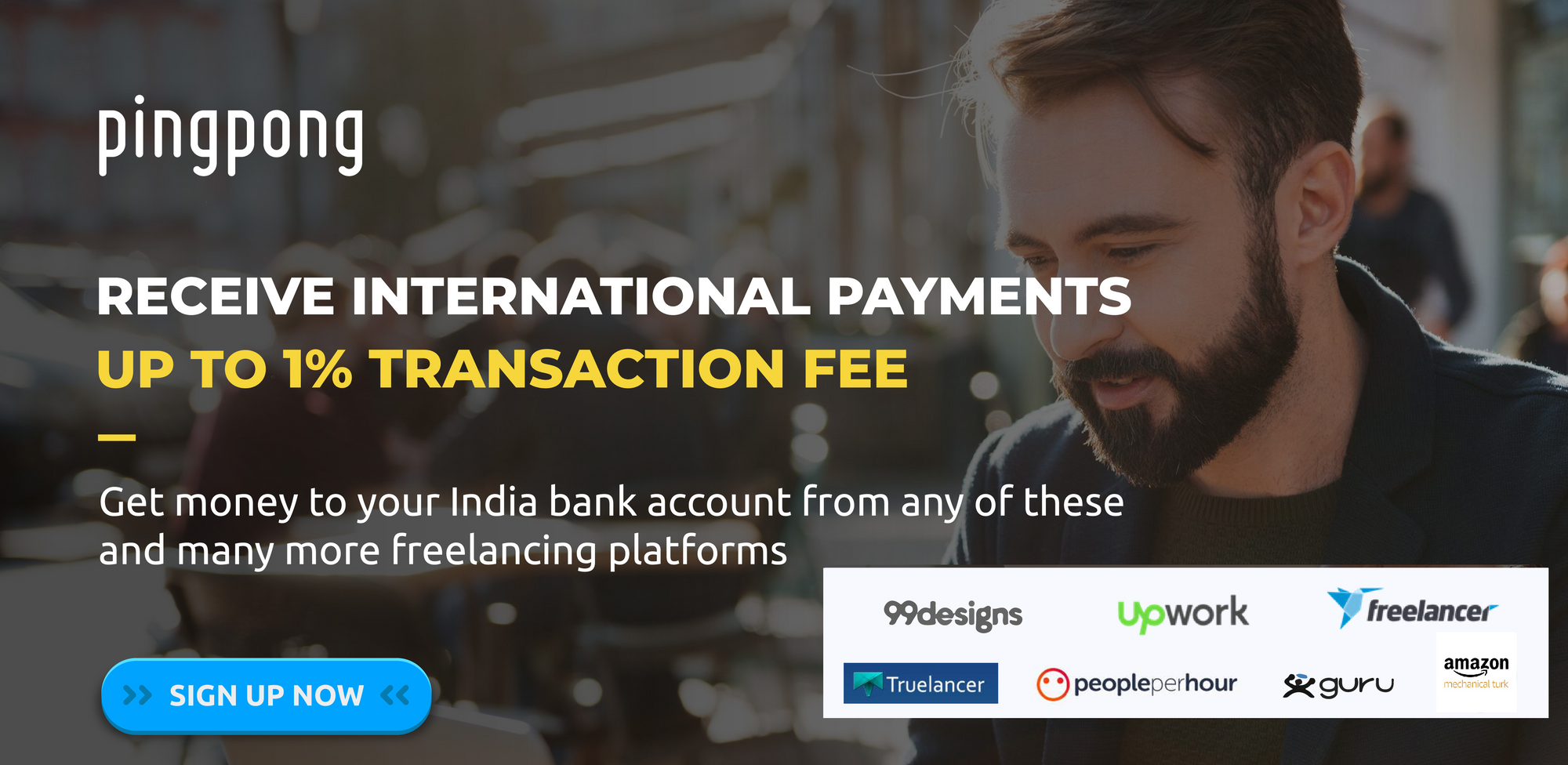 If you are a freelancer working with Global Clients and Global Freelancing platforms such as upwork, freelancer.com, 99designs, guru.com, etc. it is vital to be competitive enough in skills and pricing strategy.
While you deal with International Clientele managing International payment is also an important factor for your business operations. Dealing with multiple currencies like USD, GBP, EUR, and calculating the conversion fees, transaction fees charged by service providers and the bank is tedious and wastage of unproductive time. While there are many other kinds of hidden fees charged by many of the service providers and banks, "MIND IT": this extra fee is eating up your margins and reducing your profits. Which rather can be used by you to improve your business process or buy tools to improve your work efficiency.
Get your Free PingPong account here : https://pingpongx.com/in
The many service providers which help in receiving International Payments. While most of them charge a high transaction fee and hidden fee, PingPong Payments provide transparent pricing to its users with just a 1% fee only.
For Freelancers in India, PingPong Payments has launched its services with platforms like upwork, freelancer.com, 99 designs, PeoplePerHour, etc. The fastest-growing payment platform also helps ios App developers receive International payment through istore.
No registration fee, No maintenance fee charged.
Register your PingPong account for free and start saving while receiving international payments
You can receive Multiple Foreign Currencies directly to your Local Bank Account in India using PingPong Platform. With the single PingPong account you can manage multiple currencies like USD, GBP, EUR, JPY, AUD etc.
FEATURES OF PINGPONG PAYMENTS
# Lowest Transaction Fee ⇒ Just 1% transaction fee, No hidden fee or extra charges.
# FIRC for Free ⇒ Receive FIRC for Each transaction at no extra cost
# Safe & Secure ⇒ PingPong Payments are regulated under RBI Guidelines. Be it any part of the world, each transaction of yours is secure with PingPong.
# Fast Payments ⇒Receive Payments to you India bank account in Minutes
Here is the comparison chart for you to see how much you save more money with PingPong
Here is a comparison chart of when you receive payments from PingPong and other service providers.
About PingPong Payments : PingPong global fintech company specializing in cross-border payments. In the five years since inception, they have established one of the most reputed brands in international fintech and feature in the CB Insights Fintech 250 list amongst the top 28 companies worldwide in Payments Processing & Networks. PingPong has processed more than $10 billion in cross border payments for our customers and has over 700K customers globally. Global presence with offices in more than 8 international locations including New York, Hong Kong, Luxembourg and Hangzhou. In India, our central office is in Bangalore. Read more about PingPong at https://in.pingpongx.com/in/index