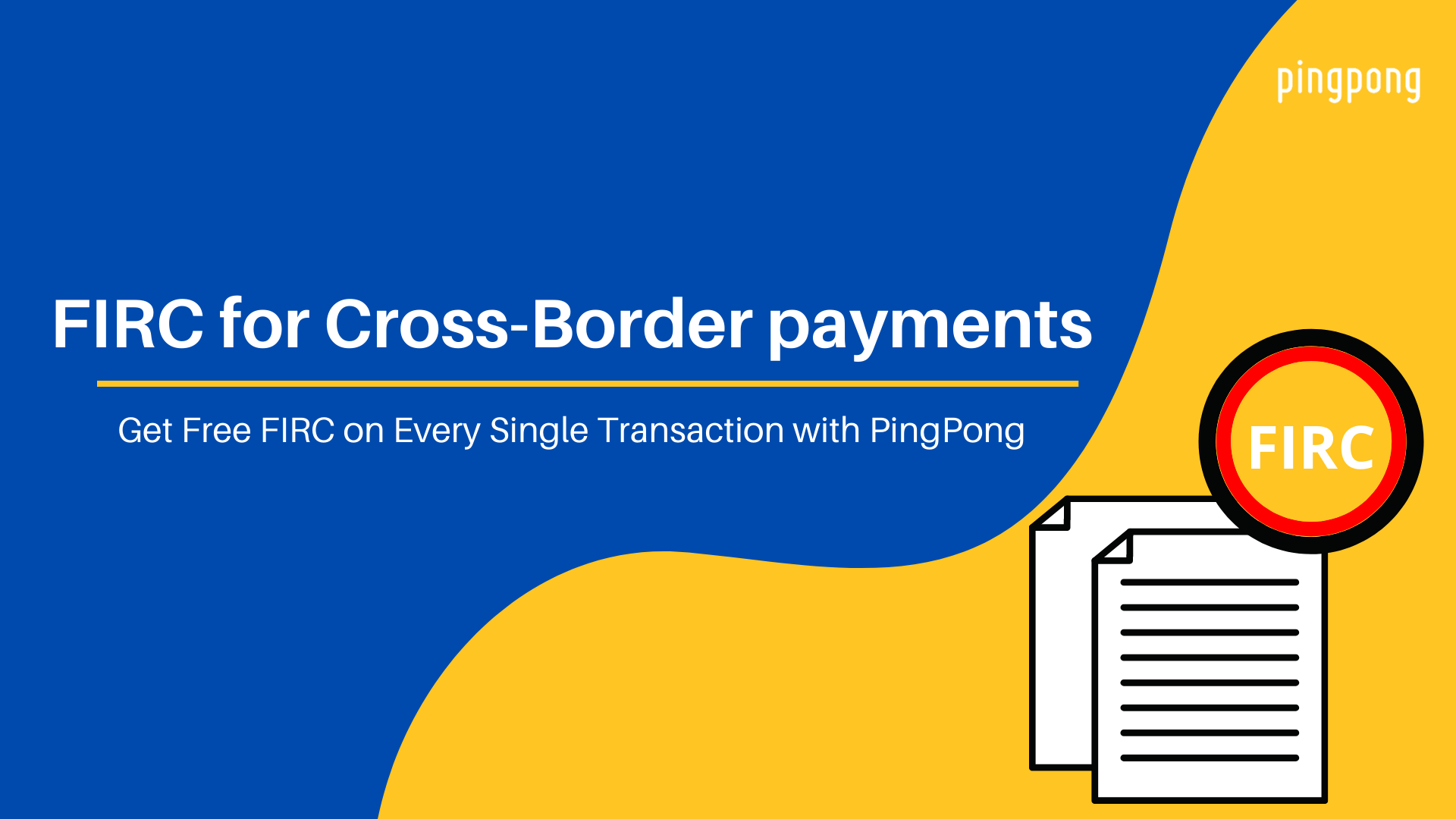 What is FIRC?
A Forward Inward Remittance Certificate (FIRC) is a document which acts as evidence for individuals receiving all payments and inward remittances in India from foreign countries.
In India, Ecommerce Merchants or Freelancers who receive international payments from Marketplaces are required to FIRC. FIRC is considered as an important document to own.
PingPong simplifies the process of accepting international transactions with minimal fees and also FIRC process for inward remittances in India.
Indian sellers or freelancers who receive payments from across the globe will get Free FIRC on every single transaction.
As per guidelines from the Reserve Bank of India ('RBI') and letters circulated by Foreign Exchange Dealers Association in India ('FEDAI'), the FIRC can be issued by Authorised Dealer ('AD') Banks in India, or in your case by your remitter bank as proof of foreign funds transfers into India.
PingPong India Global Payments is compliant with RBI regulations. Our RBI LO No. is BGLO19008226
How PingPong provides FIRC to sellers in India
1.  PingPong will issue a NOC to the seller's  home bank.
2.  Seller has to submit Shipping bill and other necessary documents to his/her home bank
3.  Home bank generates Inward Remittance (IRM) on the government export portal (EDPMS), once all the documents are verified and accepted.
4.  The IRM will be FIRC number
5.  PingPong will send you Signed copy of FIRC (to your office address) as well as send it via an email to your registered email id.
What are the Charges associated with FIRC?
You will get Free FIRC on every transaction with PingPong.
What if you do not receive FIRC :
Being a global Organization and having presence across the major E-commerce seller Market worldwide, we at PingPong understand the importance of being compliant to Regulations so our Ecommerce sellers can be assured about their foreign payments.
Rest assured, we take our obligations to protect your money seriously. When you partner with PingPong, your payments will be made on a secure platform that's compliant with financial regulators around the world.
However, if your FIRC is unlawfully withheld by any Payments Service Provider, it can report the case to RBI (Ombudsman Scheme for Digital Transactions).
Below are the steps to raise a complaint in writing or online :-
1.  A complaint can be filed using a form specified for this purpose
2.  The form has to be filled out and duly signed the complainant or his authorized representative
3.  A copy of the related documents have to be submitted along with the complaint
4.  Electronic complaints have to be emailed to the ombudsman office. The email IDs for the same are available on the RBI website. It is important to remember that consumers must file the complaint within one year of receiving the final reply from the digital services provider. The ombudsman office would also want consumers to first approach the services provider and sort the issue out with them first. An ombudsman can be approached if no satisfactory resolution has been received even after waiting for a period of 30 days.
For any queries contact : cs-india@pingpongx.com